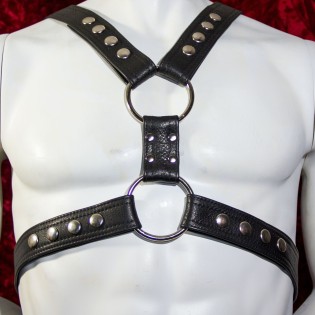  
Double Ring Snapped Leather Harness
This double ring harness adds a second ring vertically to draw a line down your chest. Ideal for men with long torsos.
Product customization
Don't forget to save your customization to be able to add to cart
Security policy
(edit with the Customer Reassurance module)
Delivery policy
(edit with the Customer Reassurance module)
Return policy
(edit with the Customer Reassurance module)
Double Ring Snapped Leather Harness
The center portion of this harness has been elongated.  This makes the harness not bunch up the pecs on some body types.  

It's worn tightly with the strap in the center of the chest. The leather straps wrap sensually around your chest and hold you just right in all circumstances.

The double rings create a pleasing handle in the center of the chest.  Add a matching torso strap for an extreme handle that connects down below.

This harness works for larger body types.  All genders.  Some FTM who have not had top surgery like this harness because it works well with a binder.

100% Genuine Full Grain Leather
All of our harnesses are made from the first quality, back portion of the hide, ensuring the best grain and consistent wear throughout the entire piece. 

Every harness is constructed from a double layer of chap weight leather, making all of our gear feel amazing against the skin. 

Double stitching minimizes stretching, but still allows the straps to perfectly mold to your body with wear.  Given proper care, this harness will last you a lifetime. 
Fashion or Play
The best thing about this leather is the way it feels against the skin.  Many customers tell us their Amici harnesses are their favorite thing to wear for play.  Molded to your body, it's a piece of gear that holds you just right during the most important moments.

This harness also makes a daring fashion accessory.  Over clothes the grip of leather remains extremely pleasurable.  Proper attire at leather events and bars, but welcome in many scenarios.
Details

Strap width is 1.5"

Ring Size is 2.5" in Black and Antique Gold

Ring Size is 3" in Silver
Extremely Customizable Gear
Black leather is traditional, especially with silver hardware.  That is the default option in our ordering process.

But we also offer this harness in eight beautiful leather colors.  The leather we use is all high quality, and the dyed leathers are as sensual as the black leather. 

Another option, if you want to stick with black leather, is to change the stitching thread color.  That lets you coordinate and flag, but take advantage of the fact that black looks good on everyone.

The hardware (roller buckles, grommets and rivets) are offered in three colors, to tie the whole thing together.  Silver, black, or antique gold.

That is literally hundreds of combinations.  You can use the Visualizer to browse looks.
Made To Order
Every order is made to your specifications, and there are many custom options are available during ordering to tailor your harness to exactly what you want.

Measurements are required.  This allows for further customization as you can decide the right leather grip.    Snug, tight,  or relaxed.

This piece is adjustable with four heavy metal buckles to account for changes in your body over time.

We do not charge extra for any size (xxxl, etc...).
Free Shipping
Free Shipping to the continental United States

International shipping available at reasonable rates.
Handcrafted Quality
We make these ourselves, and we want you to love them.   Made in Las Vegas, Nevada.