Extra Wide Shoulder Leather Harness
Product customization
Don't forget to save your customization to be able to add to cart
Wide Shoulder Leather Chest Harness for Men
The Wide Shoulder harness adds extra leather and hardware to shoulders.  It's a weighty piece that feels incredible and really enhances that "strongman" vibe.
The dramatic 3.5" beveled D-rings are connected by 3.5"wide leather straps across the top of the shoulders.  , giving this harness a pleasurable heft and a playful "gladiator" inspired look.  
100% Genuine Full Grain Leather.
We use the first quality, back portion of the hide, to make our harnesses. Constructed from a double layer of leather, our focus is on ensuring that our gear feels amazing against the skin.  
Double stitching minimizes stretching, but still allows the straps to perfectly mold to your body with wear.  Given proper care, this harness will last you a long time.  
Fashion or Play in Comfort
The best thing about this leather is the way it feels against the skin.  Many customers tell us their Amici harnesses are their favorite thing to wear for play. Molded to your body, it's a piece of gear that holds you just right during the most important moments. 
This harness also makes a daring fashion accessory.  Over clothes the grip of leather remains extremely pleasurable.  Proper attire at leather events and bars, but welcome in many scenarios. 
Made to Order, A Perfect Fit for Your Body
Provide a couple of basic measurements when you place your order, and have a piece made just for you.  
Large durable metal snaps allow for adjustment over time.
No additional charge for larger sizes.
Extremely Customizable Gear
Black leather is traditional, especially with silver hardware.  That is the default option in our ordering process.
But we also offer this harness in eight beautiful leather colors.  The leather we use is all high quality, and the dyed leathers are as sensual as the black leather.  
Another option, if you want to stick with black leather, is to change the stitching thread color.  That lets you coordinate and flag, but take advantage of the fact that black looks good on everyone.
The hardware in this piece is only available in silver.
You can use the Visualizer to browse looks.
Details
Strap width is 1.5"
Ring Size is 3"
Shoulder rings are 3.5"
Free Shipping
Free Shipping to the continental United States

International shipping available at reasonable rates. 
A Product of the United States
Made with the highest care from our workshop in Las Vegas, Nevada.



Harness-ExtraWideShoulder-Silver
No customer reviews for the moment.
You might also like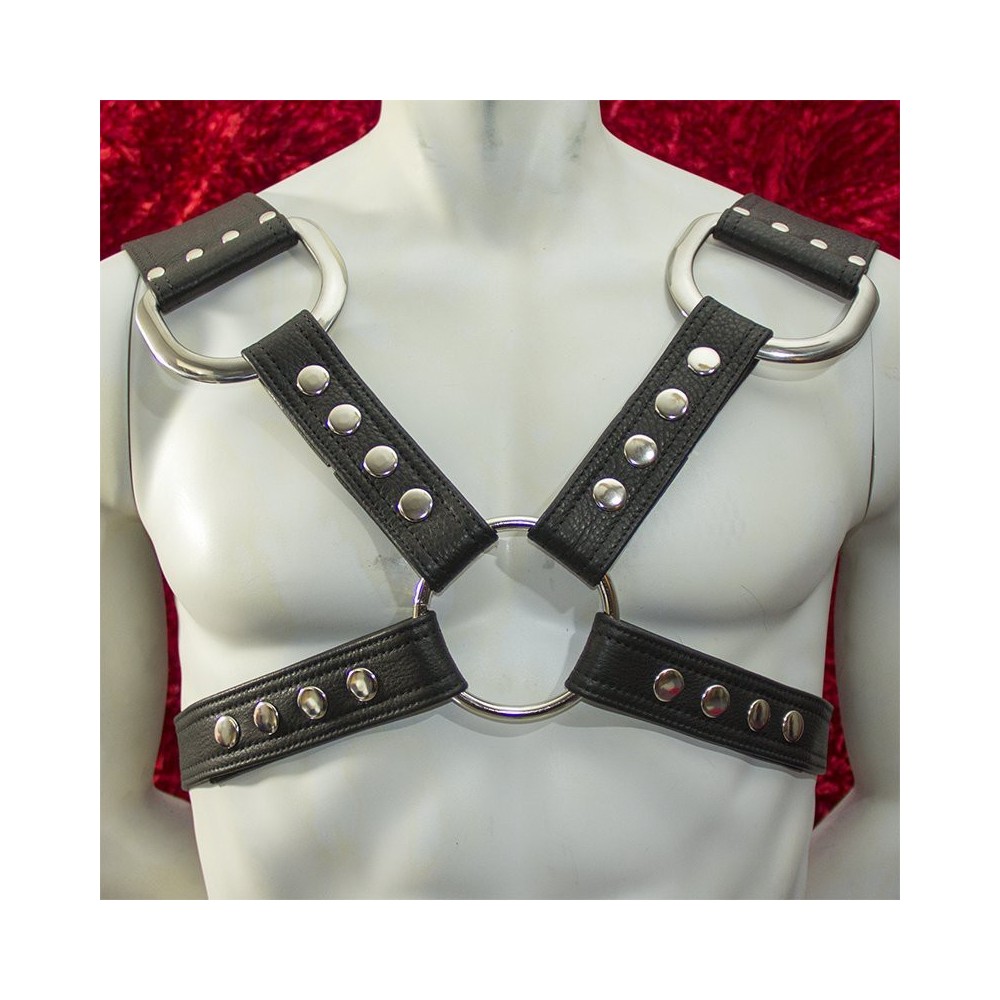 Wide leather straps on the shoulders connect to oversized D rings for a powerful piece.  This harness works well on masculine genders, average to large sized.   Men with even larger chests should also consider the Extra Wide Shoulder Harness.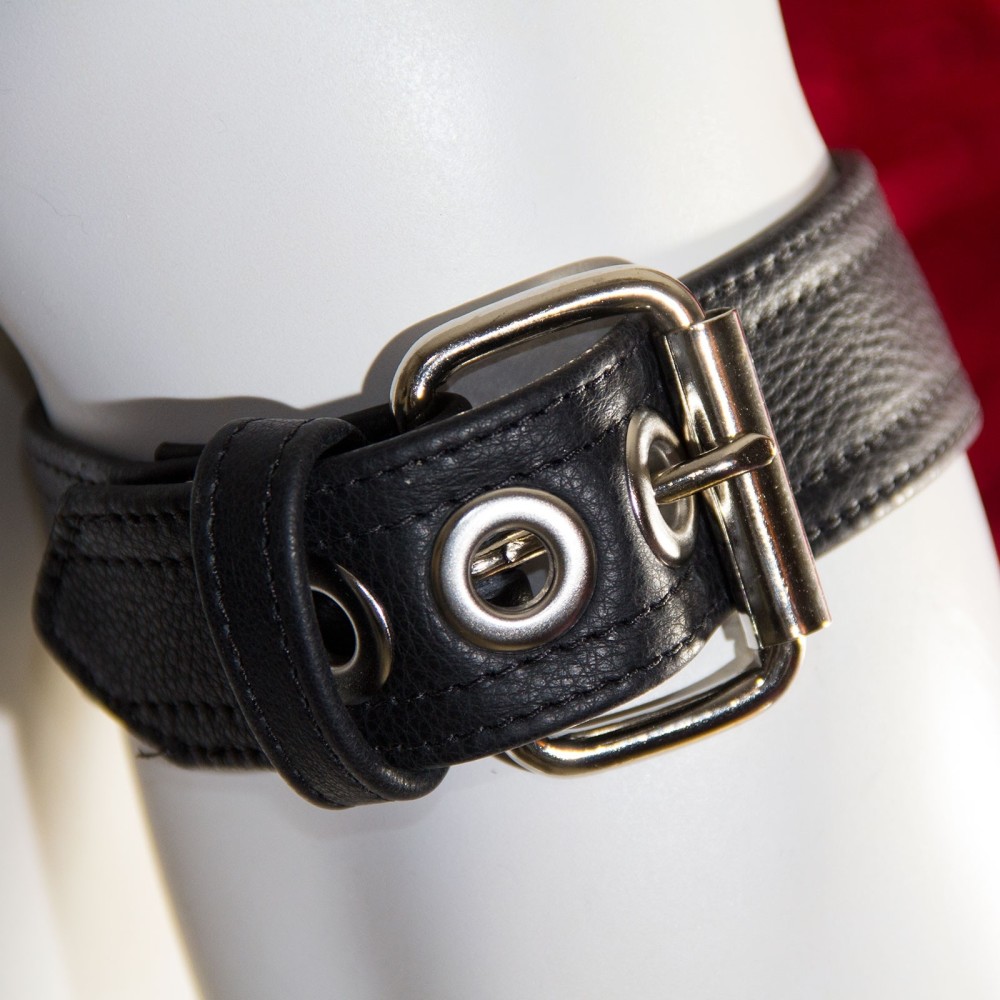 Show your leather pride with this handcrafted armband.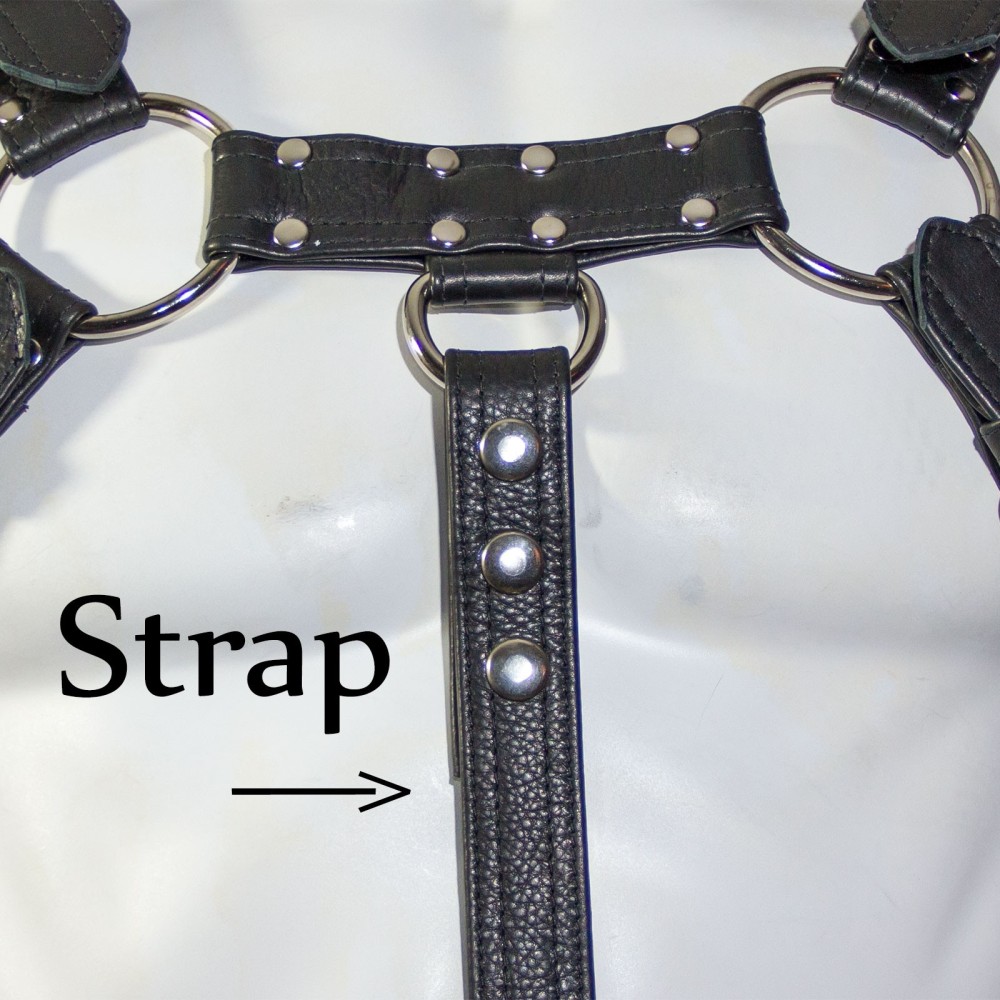 This additional strap draws a vertical line down your torso, connecting from the center ring of the harness to a ring or belt below.  3 strong snaps on the side connecting the the ring on one side, and two on the lower side allow the strap to be adjusted up to 3".  Please specify the your desired strap length, starting from the bottom of the center ring on your harness.