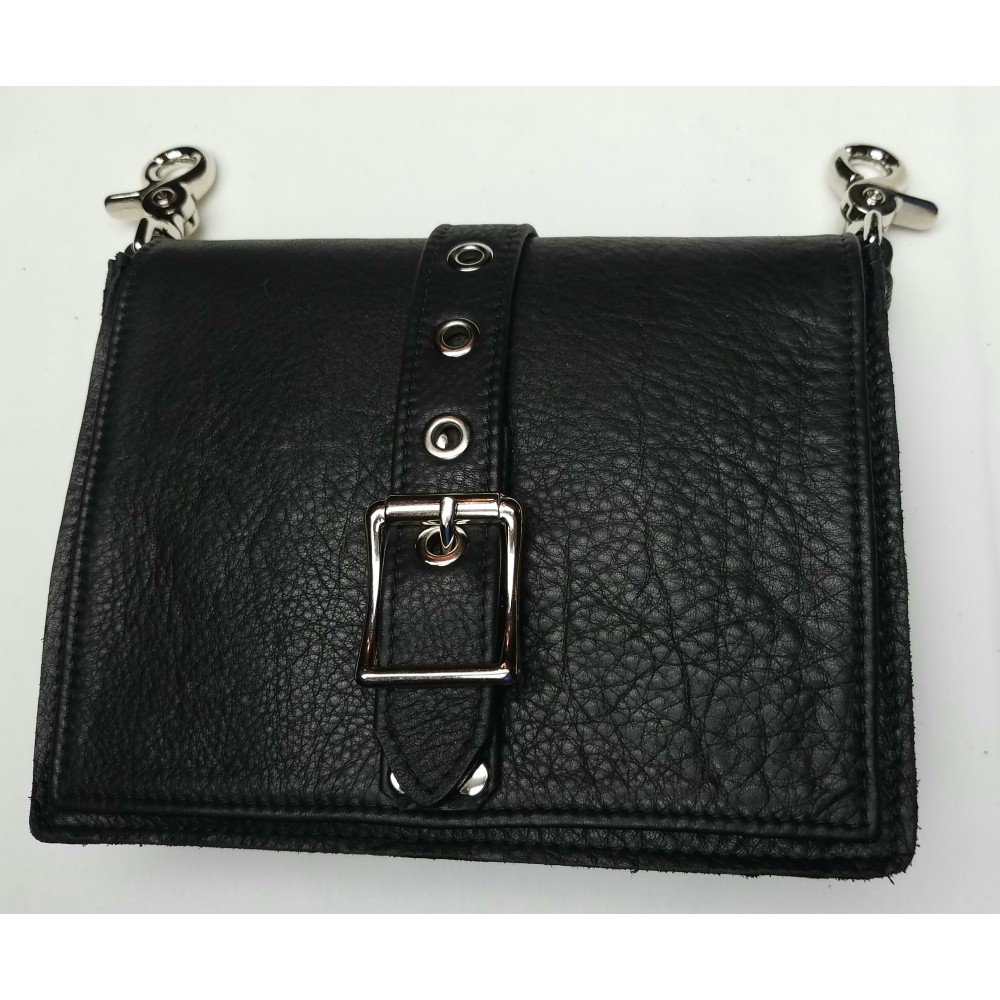  
"Hip" Leather Hip Bag
A handcrafted pack bag made from full grain leather hides.  This bag clips onto your belt loops, or can be used with the matching over the shoulder strap (optional).  Add the matching shoulder strap for added versatility.  Made to order with many leather colors available.
Exquisite Leather Powerhouse! 
Measuring 8" wide by 6" deep, this is a generously-sized bag.  There's ample room in this bag for phones,  wallets, or other accessories.   There is a small inner pocket  to hold small items in place. 
Function, Fun, and Fashion
This bag can be ordered to accompany hundreds of different color schemes.   Designed with costumers in mind, this bag is an ideal choice to accentuate existing costumes.  See the custom options below.
You know this bag is closed
The distinctive buckled strap on the front flap hides the highly functional magnetic closure we use to keep this item closed.  The benefits of magnetic snaps are numerous,  not the least of which is an "clunk" when it catches that you can feel.   No matter how dark or loud your environment gets,  you always know this bag is closed. 
Versatile Options
Two sturdy metal clasps allow the bag to be clipped to your belt loops for a supremely useful hip bag, with a stylish edgy look.  A great replacement for a worn out fanny pack
We also offer the option of a cross body strap.  This is a 58" leather strap that connects to the metal clasps.  This allows you to hang the bag,  in addition to clipping it.  
We can make cross body strap adjustable by adding a buckle and grommets to the strap.  All of our straps match the bag's body leather color (which you pick, see below). 
Black Leather and More
We only use premium full grain leather in our bags, and our most popular color so far has been black with silver hardware.  There is no doubt that this back is stellar in black and silver,  as pictured.
However, we offer the bag made of leather in all of our other colors.  Not only that, but you can choose from the leather color for the front accent strap separately.   We offer the metal hardware in three finishes to tie it all together.
Use our harness visualizer to get some ideas of the possibilities.
A Product of the USA
Designed and manufactured by hand in our workshop in Las Vegas.  This durable bag will give you years of use.
Aktuell keine Kunden-Kommentare
Vielleicht gefällt Ihnen auch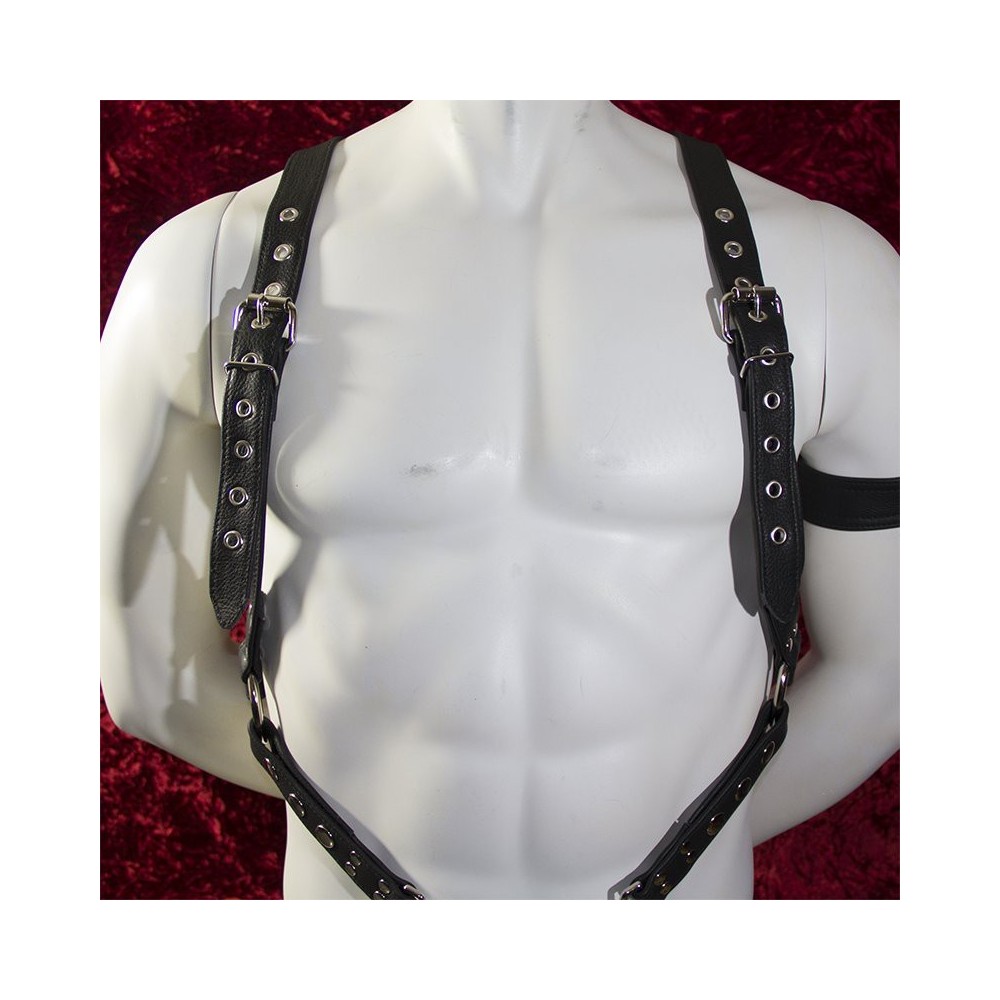 This pair of suspenders wraps around the back and presents a center ring with four leather straps.  It's a fetish twist on Classic leather suspenders. 
Great also for costumes and hanging leather bags from.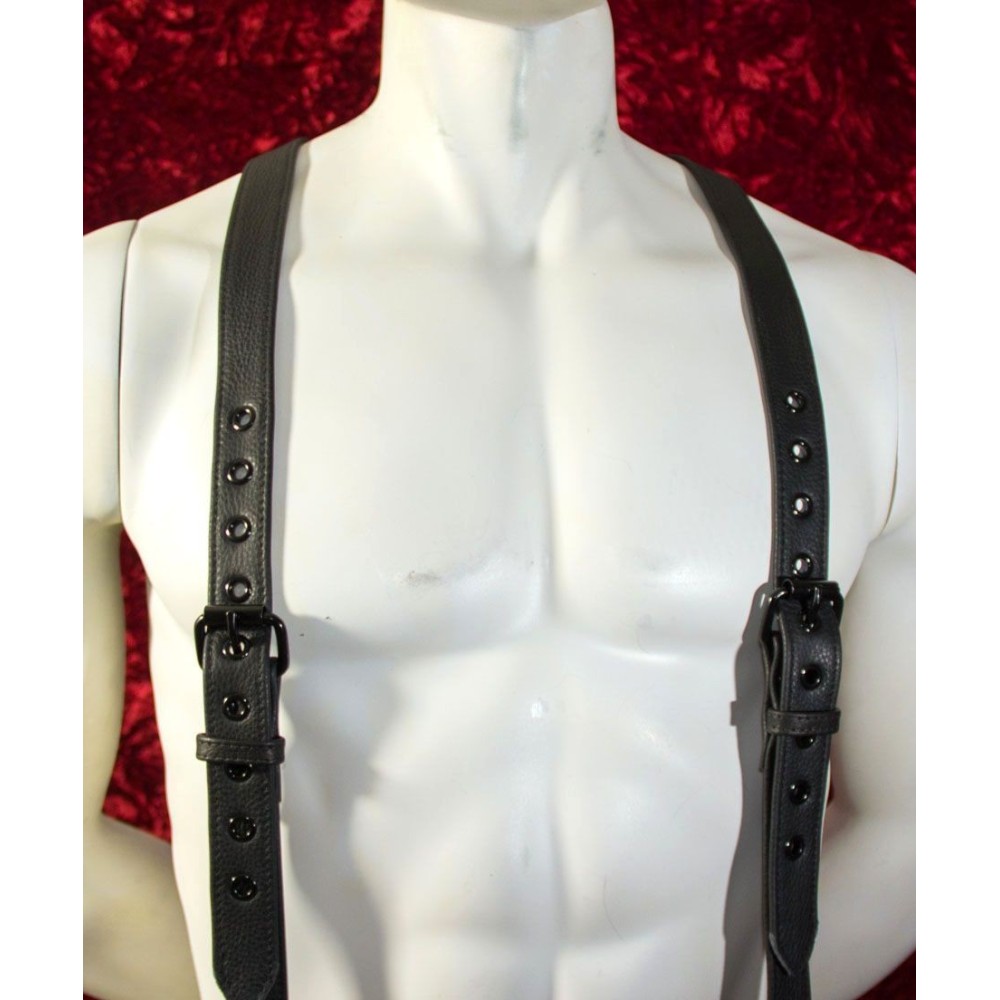 Wide suspenders with a Y-back for comfort.  They are made by hand from quality full grain leather with a careful attention to detail.
Made to order for a perfect fit.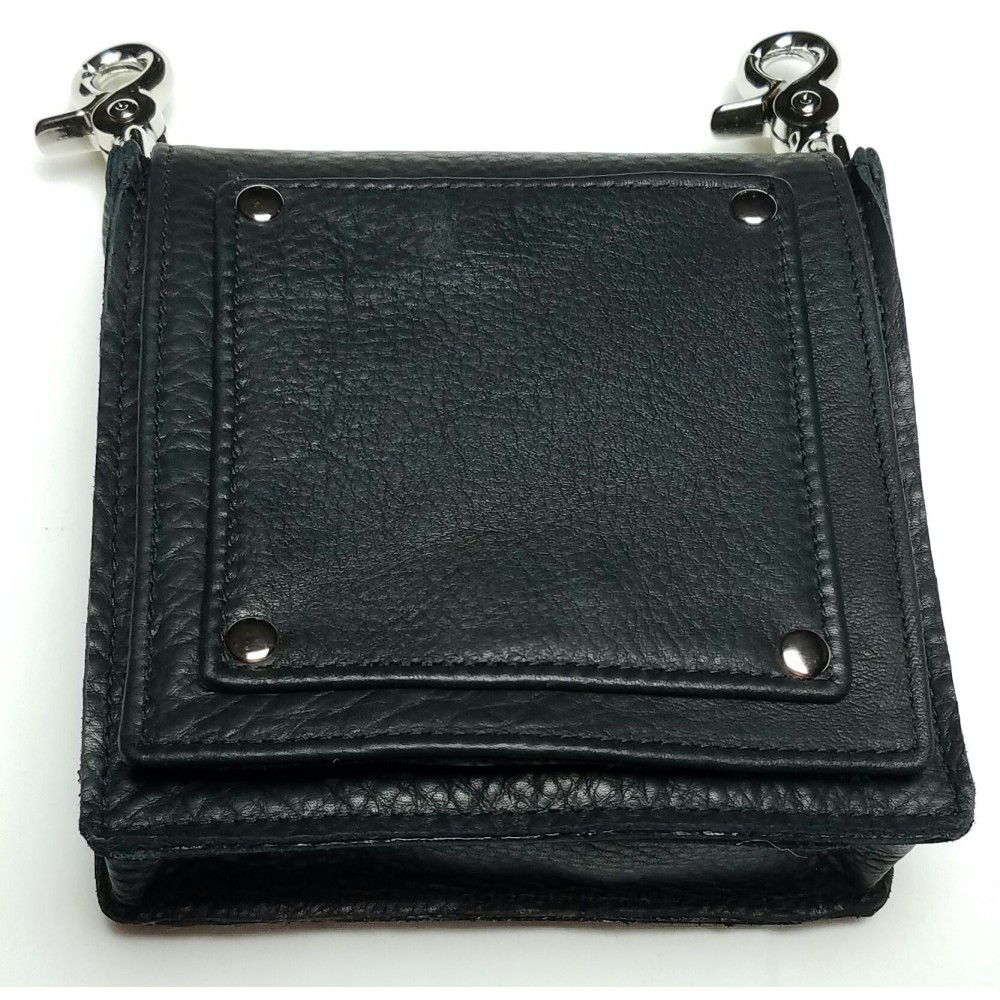 A Daily Leather Bag
This bag can take the abuse of daily usage and age with grace.
At 5 and a half  inches (5.5") tall, two inches (2") deep, and 5 and a half inches (5.5") wide, it's a fun size for holding your critical items.
It has a pocket inside to isolate your ID and cards from the rest of the contents.  Two trigger snaps are spaced to fit the belt loops on most pants.