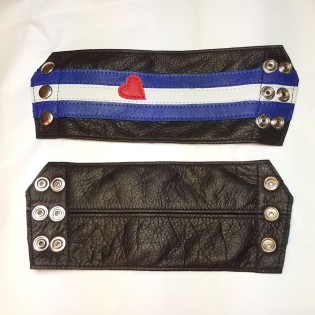  
Leather Pride Wrist Wallet
This wallet, made of full grain leather, is emblazoned with the Leather Pride flag.
Leather Pride is very inclusive. It incorporates not only gay leathermen and BDSM play, but also bootblacks, puppy play, leather girls, and slave play.  
Leather joins people together.  That is why we make this wallet.
It looks like a simple cuff, but these wallets can hold an id, money and other items.
This piece is constructed from a double layer of full grain, chap weight leather, making it feel amazing against the skin.  
This gear also handles daily use well. 
Double stitching minimizes stretching, but still allows the wallets to perfectly mold to your body with wear.  Given proper care, this wallet will last you a lifetime.  
Sized to fit a standard ID across the top of your wrist.   This is the most sensual way to keep your critical items close. 
Sizing:
Small/Medium is 10" across at the widest point.
Large/XL is 11" across at the widest point.
2XL is 12" across at the widest point.
Each size comes with two sets of snaps for adjustment.
You want the wallet to be snug on the tightest snap, so that you have more room when you put things in it.
Technische Daten
Leather Color

Black Leather with Red Leather contrast stripe

Closures

Snaps

Hardware Color

Silver

Material

100% Genuine Quality Leather

Stitch Color

Schwarz
Vielleicht gefällt Ihnen auch