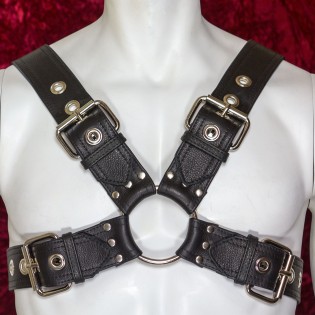  
Wide Strap Leather Buckled Chest Harness
The upsized 2 inch leather straps on this harness frame larger men beautifully. 
This harness is available in many beautiful leather colors.  We use high quality, sensual leather.  This is a handcrafted product with a eye-catching look and an amazing feel.  
Not only are Amici Leather harnesses suitable for use in kink scenes, bdsm parties, and other bedroom play, but leather harnesses are also a fashion statement.  People wear them for cosplay, reenactment festivals, gay bars, or just to complete a personal glamor.
Product customization
Don't forget to save your customization to be able to add to cart
Wide Strap Leather Buckled Chest Harness
Our Buckled Leather Men's Harness is popular, but on some men, the straps seem too narrow.  
The leather straps on this harness have all been widened, and the effect is impressive on the men who can wear them. 
It's worn with the ring in the center and sensual leather straps wrapped tightly around your chest.  
This is a style that can be enjoyed by all types of people, enlarged to flatter larger body types. 
100% Genuine Leather
All of our harnesses are made from top quality leather ensuring the best grain and consistent wear throughout the entire piece.  
Our harness straps are constructed by folding and stitching the leather, making all of our clothing feel amazing against the skin.  
Double stitching minimizes stretching, allowing the straps to perfectly mold to your body.  Given proper care, this harness will last you a lifetime.  
Fashion or Play
This harness makes a daring fashion accessory.  Over clothes or on bare skin, the grip of leather is extremely pleasurable.  
Many customers tell us their Amici harnesses are their favorite thing to wear for bedroom play.  Wearing a leather harness during sex provides your partner leverage in fresh, new ways.  The strength and comfort of Amici harnesses will delight you during these important moments. 
A leather harness is also a flexible personal fashion statement.  It flatters when worn over the clothes,  or under the clothes, and even with no clothes.  We offer many leather colors to compliment many different outfits.  You be welcome in many scenarios with this stylish accessory. 
Made To Order
Because every order is made to your specifications, we require your Measurements.  Your leather harness is adjustable with metal snap fasteners to account for changes in your body over time.
Extremely Customizable Gear
We offer this harness in many beautiful leather colors.  You have the option to change the stitching thread color.  The metal connectors are offered in three colors for more options.
There are literally hundreds of combinations.  You can use the Harness Visualizer to browse looks.
Black leather with silver hardware is classic.  That is the default option in our ordering process.
Details
The Strap width is 2 inches (about 51 mm)
The size for Black and Antique Gold rings is 2.5 inches (about 63.5 mm)
The size for Silver rings is 3 inches (about 76 mm)
Handcrafted Quality
Made for you from our workshop in fabulous Las Vegas, Nevada.  We listen carefully to make our product the best it can be, and we want you to love wearing this harness.
Harness-Buckled-Silver-2inch
Data sheet
Leather Color

Black

Closures

Buckles

Hardware Color

Silver

Material

100% Genuine Quality Leather

Stitch Color

Customizable

Strap Width

2"

Ring Size

3"
Customers who bought this product also bought: