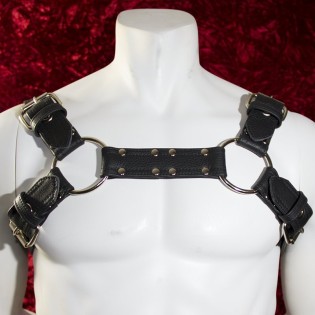  
Bulldog Leather Harness
A Bulldog style harness goes across the upper chest, drawing the eye to the shoulders.  Many body types look great in this style, so it's a matter of taste.  
This harness is available in many beautiful leather colors.  We use high quality, sensual leather.  This is a handcrafted product with a eye-catching look and an amazing feel.  
Not only are Amici Leather harnesses suitable for use in kink scenes, bdsm parties, and other bedroom play, but leather harnesses are also a fashion statement.  People wear them for cosplay, reenactment festivals, gay bars, or just to complete a personal glamor.     
Product customization
Don't forget to save your customization to be able to add to cart
A masculine look, the leather Bulldog Harness for men
This style is a classic.  With four rings and six buckles, the Bulldog harness sits high to emphasize the chest.  It is a powerful presentation for forceful men.
100% Genuine Full Grain Leather
All of our harnesses are made from first quality leather ensuring the best grain and consistent wear throughout the entire piece.  
Our harness straps are constructed by folding ans stitching the leather, making all of our gear feel amazing against the skin.  
Double stitching minimizes stretching, allowing the straps to perfectly mold to your body.  Given proper care, this harness will last you a lifetime.  
Fashion or Play
This harness makes a daring fashion accessory.  Over clothes or on bare skin, the grip of leather is extremely pleasurable.  
Many customers tell us their Amici harnesses are their favorite thing to wear for play.  It's a piece of fashion that holds you just right during your most important moments. 
Proper attire at leather events, but also welcome in many scenarios. 
Made To Order
Every order is made to your specifications.  Many custom options are available to tailor your harness to exactly what you want.
Your Measurements are required.  This piece is adjustable with heavy metal buckles to account for changes in your body over time.
Extremely Customizable Gear
Black leather is traditional, especially with silver hardware.  That is the default option in our ordering process.
But we also offer this harness in many beautiful leather colors.  We use is all top quality leather, and the leathers of color are just as sensual as the black leather.  
Another option is to change the stitching thread color.  You can choose to make the effect subtle or bold.  
The hardware is offered in three colors, to tie the whole thing together.  Silver, black, or antique gold.
That is literally hundreds of combinations.  You can use the Visualizer to browse looks.
Details
Strap width is 1.5" (about 38mm)
Ring Size is 2.5"  (about 63.5mm)
Handcrafted Quality
Made for you from our workshop in fabulous Las Vegas, Nevada.  We listen carefully to make our product the best it can be, and we want you to love wearing this harness.
Data sheet
Leather Color

Customizable

Closures

Buckles

Hardware Color

Customizable

Material

100% Genuine Quality Leather

Stitch Color

Customizable

Strap Width

1.5"

Ring Size

2.5"
Customers who bought this product also bought: