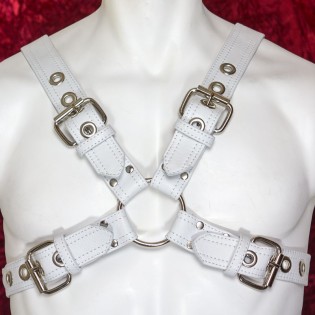  
The Alabastrine Harness - White Leather Buckled
"alabastrine:  made of or resembling alabaster, in particular in being white or smooth"

The Alabastrine white leather buckled chest harness, like The Dazzler Harness strikes a contrast to the traditional black leather harness.   It is handcrafted from soft, full grain leather, and you can customize the stitch color to make it distinctively yours.
Product customization
Don't forget to save your customization to be able to add to cart
The Alabastrine Harness is Smooth and Cool
This is our Buckled Leather Men's Harness done in dazzling white leather.
It's worn with the ring in the center and sensual leather straps wrapped tightly around your chest.  
Add a matching torso strap for a 5 point harness and a white leather armband to complete the look.
This harness works for all body types.  All genders.
Comfortable Leather
The best thing about this leather is the way it feels when worn against the skin.  We use hides of full grain leather to make a piece of gear that holds you just right during the most important moments. 
Over the clothes or against the skin, the grip of leather is extremely pleasurable.  Many customers tell us their Amici harnesses are their favorite thing to wear for play.
Double stitched and rivet-assembled with metal fixtures, this harness will last many years with proper care.
Details
Strap width is 1.5"
Ring Size is 2.5"
Made To Order
Every order is made to your specifications, and there are many custom options are available during ordering to tailor your harness to exactly what you want.
Measurements are required.  This allows for further customization as you can decide the right leather grip.    Snug, tight,  or relaxed.
This piece is adjustable with four heavy metal buckles to account for changes in your body over time.
You can explore more color leather options in the the Visualizer.
Handcrafted Quality
We make these ourselves, and we want you to love them.   Made in Las Vegas, Nevada.
Harness-Buckled-Silver-White
Data sheet
Leather Color

White

Closures

Buckles

Material

100% Genuine Quality Leather

Hardware Color

Silver

Stitch Color

White

Strap Width

1.5"

Ring Size

3"