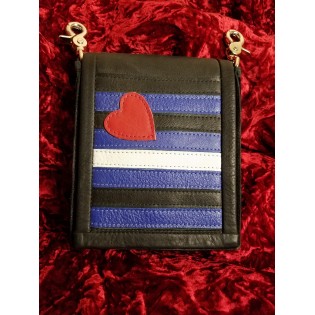  
Leather Pride bag
This bag, made of full grain leather, is emblazoned with the Leather Pride flag.
Leather Pride is very inclusive. It incorporates not only gay leathermen and BDSM play, but also bootblacks, puppy play, leather girls, and slave play.  
Leather joins people together across many divisions.  That is why we make this bag.

A Functional Statement
The flag on the front closure is clear for all to see, but hidden underneath is the functional frame of our other bags.  This makes a display that is perfect for Pride parades and festivals, but the construction is solid.  
This bag can take the abuse of daily usage and age with grace.  
You know this bag is closed
The magnetic closure we use to keep this item closed is one of the best parts.  No matter how dark or loud your environment gets,  you always know this bag is closed, because you can feel it "snap" . 
There is a small pocket inside to keep smaller items bound.
Great Sized Bag
This bag is 6 and a half  inches (6.5") tall, two inches (2") deep, and 5 and a half inches (5.5") wide.  This makes is a fun size for holding your critical items, but not overly large, or in the way.  
A matching black leather shoulder strap is included.  You can wear the bag with the strap, on the shoulder like a purse, or remove the strap and clip it directly to whatever you want.
In fact, when clipped to your belt loops, you can get very used to the weight of the bag.  It just feels natural.
Made with Genuine Full Grain Leather
Reaching into this bag surrounds your hand in  sumptuous leather.  You will enjoy the feel every time you use it.  
Our high quality, chap weight, full grain leather gives texture experience beyond regular store purses.  This leather satisfies people who really enjoy leather.
This bag was designed and is made to your order in our workshop in Las Vegas, NV.  It is a product of the United States.
Leather, Honor, and Community
The Leather Pride Flag was designed by Tony DeBlase in 1989.  Mr DeBlase passed away in the year 2000, after a lifetime of expanding the community.  We thank him, and honor his spirit.