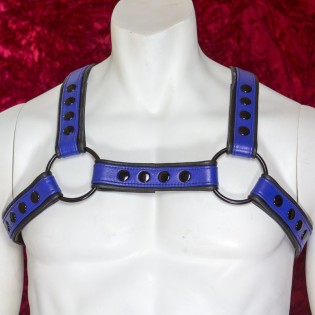  
Blue and Black Leather H-Harness with Black Hardware
This two-tone harness frames a blue leather strap with a black leather strap for a colorful harness with traditional roots.
High quality leather and black metal hardware ensure a comfortable fit and long lasting durability.
We offer more color leather options and harness styles.  Browse the Visualizer for ideas.
Personnalisation
N'oubliez pas de sauvegarder votre personnalisation pour pouvoir l'ajouter au panier
Blue Leather/Black Leather Harness
The H-Harness is a lighter alternative to the bulldog.  Snaps give this style a more modern feel, which the blue leather enhances, while the Black Leather underneath caresses your skin.  The H Harness works well on a wide variety of bodies.  It holds your upper chest and shoulders tightly as it frames you for dancing and other fun activities.
Amazing Leather
Over the clothes or against the skin, the grip of leather is extremely pleasurable.  Many customers tell us their Amici harnesses are their favorite thing to wear for play.
The best thing about this leather is the way it feels when worn.  We use hides of full grain leather to make a piece of gear that holds you just right during the most important moments. 
Double stitched and rivet-assembled for durability.  This harness will last many years with proper care.
Made To Order
Every order is made to your specifications, and we tailor your harness to exactly your size.
Measurements are required.  This allows for further customization as you can decide the right leather grip.    Snug, tight,  or relaxed.
This piece is adjustable with metal snaps to account for changes in your body over time.
We offer more color leather options and harness styles.  Browse the Visualizer for ideas.
Free Shipping
Free Shipping to the continental United States

International shipping available at reasonable rates.  
Details
Strap width is 1.5"
Ring Size is 2.5"
Handcrafted Quality
Made for you from our workshop in Las Vegas, Nevada.  A product of the United States.  We listen carefully to make our product the best it can be, and we want you to love wearing this harness.
Fiche technique
Leather Color

Black and Blue

Closures

Snaps

Hardware Color

Noir

Material

100% Genuine Quality Leather

Stitch Color

Noir

Strap Width

1.5"

Ring Size

2.5"